KEWASKUM, WISCONSIN: The Making of a Village
By Aaron Laatsch & Anne Trautner
In conjunction with the 125th anniversary celebration of the incorporation of the Village of Kewaskum, the Kewaskum Historical Society has published KEWASKUM WISCONSIN: The Making of a Village, a book documenting the Village's history. The book is available for purchase at several area businesses (listed on this page) or can be ordered (shipping fees extra) by completing the book order form.
100% of each sale benefits the Kewaskum Historical Society.
Inside the Book
This 320-page, hardcover, coffee-table style book includes detailed chapters with information about Chief Kewaskum, early settlers, area businesses, schools, churches, local government, civic groups, and more. Included throughout the book are memories from village residents, adding a personal touch to our already interesting village history. You will also find many historic photos, documents, maps, and other items related to Kewaskum. A must-have for anyone with ties to Kewaskum, this book promises to hold a coveted spot on your bookshelf or table at home or business.
Details
| | |
| --- | --- |
| Format: | Foil-stamped Hardcover with Dust Jacket |
| Pages: | 320 Pages |
| Dimensions: | 11.75" x 9.6" |
| Publication Date: | March 3, 2020 |
| ISBN-13: | 9780578615264 |
| Authors: | Aaron Laatsch & Anne Trautner |
| Publisher: | Kewaskum Historical Society |
About the Authors
KEWASKUM WISCONSIN: The Making of a Village was co-written and designed by Kewaskum Historical Society volunteers Aaron Laatsch and Anne Trautner. Aaron is a fifth-generation Kewaskum resident with a passion for researching and preserving local history. Anne is a journalist with the Kewaskum Statesman who shares an interest in Kewaskum's treasured past.
Purchase Books
at These Locations
Kewaskum
The Candy Tree
The Fifth Quarter
Geidel's Piggly Wiggly
General Store Antique Mall
Hair on Main
Kewaskum Village Hall
West Bend
Urban Farm Girl
The History Center of Washington County
Campbellsport
Woodland Creek Supper Club
Meet the Authors
Book Reception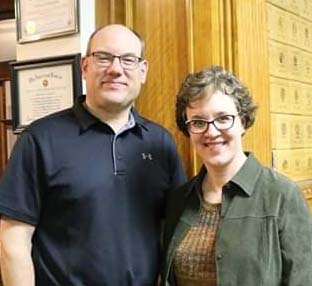 Date to be determined. Join us at The Tower Heritage Center Old Courthouse Museum for a social and book release program. Authors Aaron Laatsch and Anne Trautner will speak about their book, KEWASKUM WISCONSIN: The Making of a Village.
The book will be available for purchase at the event, and 100% of each sale benefits the Kewaskum Historical Society. This program is FREE of charge.
---
Kewaskum at 125 Exhibit
Now through July 31, 2021. Visit The Tower Heritage Center's Kewaskum at 125, a temporary exhibit complementing the Village of Kewaskum's 125th anniversary celebrations.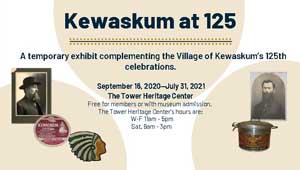 Kewaskum's 125th Anniversary
Founder's Day Celebration
June 12 & 13, 2020
River Hill Park – Kewaskum, WI
Contact
For more information or to find out how to get involved, please contact:
Aaron Laatsch
Anne Trautner
kewaskum125th@gmail.com
Kewaskum Historical Society
P.O. Box 394
Kewaskum, WI 53040
Tickets
Fish Fry and Pancake Breakfast advance tickets can be purchased at:
Friday Fish Fry
J.O.'s
The Fifth Quarter
Geidel's Piggly Wiggly
Fire Dept. Members
Saturday Pancake Breakfast
The Fifth Quarter
Geidel's Piggly Wiggly
Legion Members
Parade Route
The Parade steps off at Noon from Kewaskum High School:
South on Reigle Drive to 2nd St.
West on 2nd St. to Fond du Lac Av.
South on Fond du Lac Av. to Main St.
East on Main St. to Parkview Dr.
Shuttle Bus Locations
Pick up/drop off every 15-20 minutes:
Downtown Kewaskum Parking Lot
140 Main St.
Peace United Church of Christ
270 Main St.
Regal Ware, Inc.
1675 Reigle Dr.
River Hill Park
1202 Parkview Dr.
River Hill Park
1149 Riverview Dr.